Forming a Corporation, S Corporation, LLC or Non Profit in Illinois requires more than just filing the Articles of Incorporation or Articles of Organization. State laws require that all the appropriate paperwork be created for the entity in order to benefit from the liability and tax advantages of incorporating. This is what the Corp Kit will accomplish.
If you have already filed the Articles with the State of Illinois, AMC Legal can prepare a customized Corp Kit for your business whether it's a C Corp, S Corp, LLC or Non Profit. We can also replace a corporate book that has been lost or stolen. Please call for a quote on this service.
Your Corp Kit will be created by an experienced corporate attorney to suit your business' needs specifically. For instance, did you elect to be taxed as an S Corp? Who are your Directors and Officers? Who are the Shareholders? Are you a Non Profit who wants to file for 501c3 status? All of these items will be in your corporate book. Everything will be prepared for you. All you need to do is sign the paperwork.
Each Corp Kit begins at $250 will include:
Consent for First Board of Directors Meeting

Consent for First Shareholders Meeting

Customized Bylaws for Corporations

Stock or Membership Certificates

Gold Foil Corporate Seals for Stock Certs, Bylaws and Minutes

A Black 3 Ring Corporate Binder detailed in Gold with matching Slipcase and labeled separation tabs for easy access to documents with the Corporate Name and Incorporation Date on the Spine

You can make changes to documents up to 30 days after delivery to reflect your company's practices
Each additional year will be an additional charge of approximately $100 for that year's annual minutes and resolutions.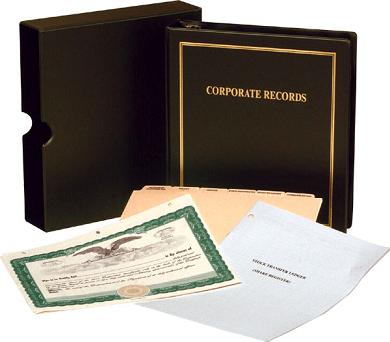 If you incorporated without the help of an attorney:
Did you sign an indemnification agreement to help protect the directors and officers from personal liability?

Did you obtain an EIN (Federal Tax ID)?

If you have more than 1 Shareholder or Member did you execute a Shareholder or Operating Agreement?

Did you file for your state tax ID?

If you're an S Corp did you register all shareholders as employees of the corporation?

Have you prepared all of your corporate resolutions?

If you've been in business for a year or more, have you prepared annual minutes for Shareholders and Directors?
AMC Legal can help you with these and many other issues for your business for a reasonable fee. Just give us a call 630-590-3640.